I am running 225/45 R16 tyres on 8inch rims and being a little wide, I was very close to rub my tyres on the arches( I wish I had wide arches). So as a temporary fix, I raised the car from the coilovers. This in turn created another problem and was not able to get enough negative camber. The course camber /caster mod (originally patent by Jim) solved both my camber and added some caster.
Just a background to my original thread regarding geometry alignment
http://www.gtiroc.com/forums/showthread.php?t=58817
Staring at the turret for endless hrs trying to come up with a good all round alternative, I came up and draw these topmounts which will 1) rise the car so I can keep the coilovers to optimal height. 2) give me a wider camber and caster adjustment
These topmounts are currently fabricated from 3 x 8mm steel plates cut with a 2D CNC laser cutter. These plates are held together using 4 x 8mm and 2 x 6mm studs fusion welded at both ends. If my design yields good results, I will consider fabricating them from a 1 piece lighter grade material (such as aluminium).
This is the design which later went for cutting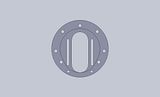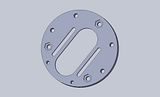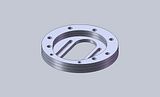 Final product installed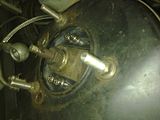 I was so eager to test fit, that i forgot to take pics of the topmount before installing it :doh:
I have left the O/S untouched with the original Tein Topmount and alignment. When I have time I will disconnect the tie rod from the N/S and align both wheels with 0 toe, and make a comparison between sides.